Animotion Studios
is pleased to announce the sale of the much-awaited
Tabernacle Prints
. These prints are a foretaste of the animated educational Tabernacle video which is to follow soon next year.
Never before has the Tabernacle and its furnitures been so beautifully and realistically re-created! In the works for more than three years of research and rendering, the final product is not only visually stunning, but it is completely accurate following the Bible's every detail. You will not find a more accurate or beautiful rendition of the Tabernacle furnitures in any book!
Each print is custom-printed using high-end equipment on heavy photographic paper. The prints reveals rich color tones and incredible detail due to the high resolution rendering. Below are some sample snapshots of various parts of the print.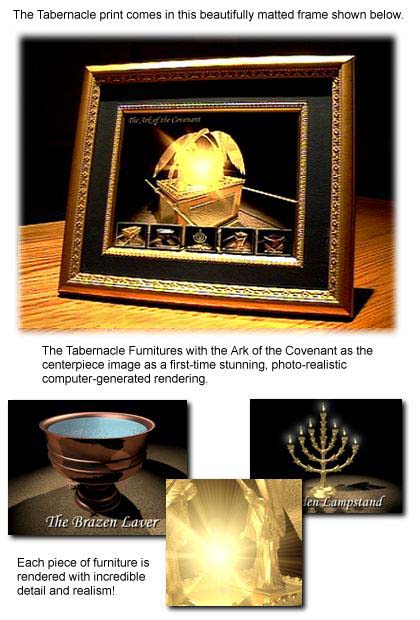 Each print is professionally printed either on high-gloss or matte 11x14 heavy photographic paper. Custom-Made frames are available for these beautiful prints! Each frame is hand-crafted by locals here in Greenville to perfection. The frames are heavy set and thick -- not thin and cheap. All prints are dry-mounted before being framed for extra durability.